Key Content Review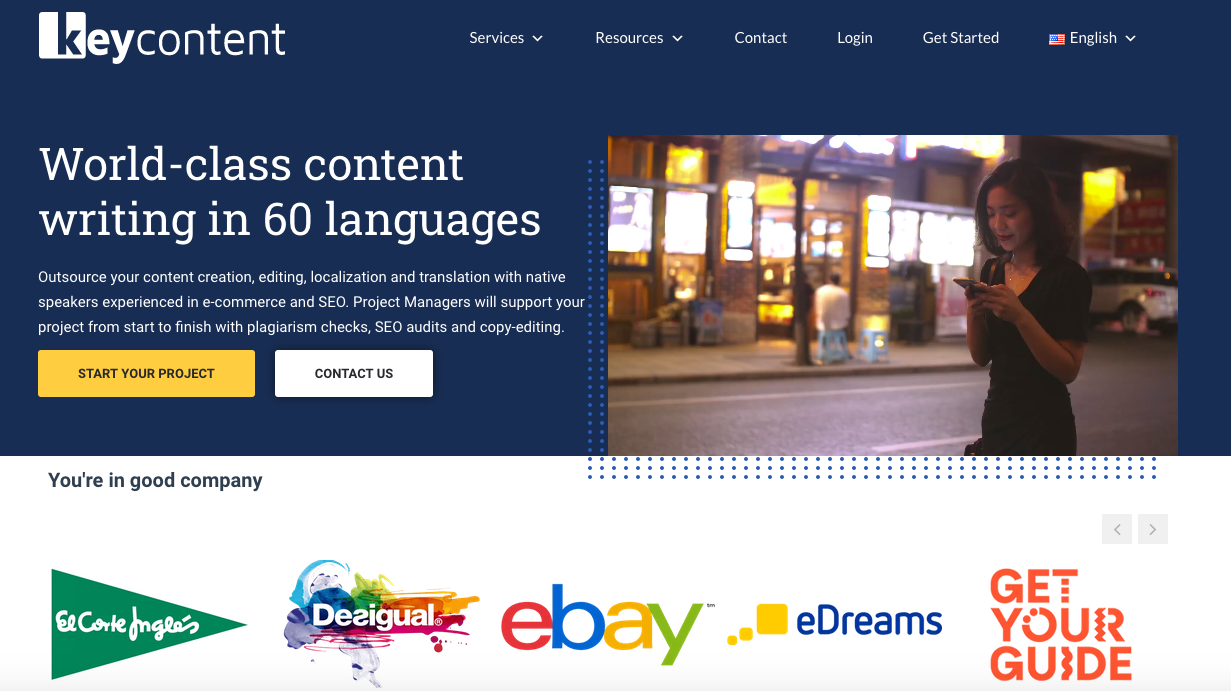 The Key Content service at a glance
Key Content may be an online content agency, but it also offers an array of other content-related services – the true definition of a one-stop shop. Based on our tour of the website, we broke it down as follows:
Positives
reasonable per-word pricing
strong focus on quality
proofreading etc. available
content in 60 languages
service tailored to client needs
Negatives
client can't choose writers
no set turnaround times
proofreading etc. costs extra
. . . ?
. . . not enough negatives?
Key Content: scam or star?
When it comes to all-round content service, Key Content seems pretty unbeatable. Client testimonials rave about the quality, which really does seem to be a major focus. All manner of services are available, from additional proofreading and quality controls to full-on brand development and SEO research, not to mention transcription and translation. Plus, it all comes in a choice of 60 languages, meaning your dreams of global expansion just got that little bit closer. Of course, it's not the quickest and you can't personally choose or rate your writer. But for a managed, professional, and personalized service, Key Content seems to be the golden ticket.
What is Key Content?
If you're reading this, you hopefully already know that Key Content is an online content agency. Not only that, it's a globally active one, offering "world-class content writing in 60 languages". Aimed at all manner of companies, from startups to global brands, Key Content works with a vast pool of native-speaking writers, editors, and project managers.
Key Content prides itself on offering a truly personal service, with "so much attention you'll get tired of us". That seems to work for plenty of brands, with happy customers including adidas, Amazon, StubHub, opodo, Zalando, and more. Based in Canada, Key Content has an international team, with professional freelance writers and editors working from across the globe. Other services available besides content writing include translation and transcreation, brand development, website accessibility, keyword research, and a full suite of SEO. You can contact Key Content to discuss your project in detail, or sign up as a client to start ordering content.
So far, so good – but what's the real lowdown? We delved deeper to review Key Content.
How the Key Content service works
When it comes to content writing – we'll look at the other services a bit later – the process is simple with Key Content. First, you'll need to sign up or fill in a contact form to get in touch with the agency. A content creator will then be assigned to you, based on your industry and content needs. Following your brief they'll produce content, which is quality-checked by a native-speaking editor. Once it's approved by editor and project manager, the content is yours to keep forever.
While some content agencies offer content in different languages, Key Content has a whopping 60 on its books. That means you can get content in English, French, Italian, Spanish, Malay, Slovak, Georgian, Persian, Vietnamese, Bengali . . . okay, you get it. And as it works with native speakers, you can expect content that's localized for your specific audience.
What's more, Key Content has tailored content writing services for specific industries, from beauty to healthcare, education to finance. Professional writers with industry expertise can produce articles, white papers, technical documents, and essays that are tailored specifically to your brand and field of business.
Because of the quality checks involved, Key Content doesn't offer a super-quick turnaround. In fact, they don't make any timing claims on their website at all, which suggests they really are focused on quality. After all, good content can't be rushed. It also comes from the personal approach, meaning delivery schedules are tailored to each individual client's needs.
What will it cost me?
The pricing structure is more visible than delivery times, and based on a per-word rate that's the same across the agency. There are no starred authors here and no talent levels. The experts behind the scenes will draw on their pool of writers to create your content without you having to get involved. For those who like to control the process, this could seem like a drawback, but having a project manager take care of your order is actually more efficient and results in higher quality.
The handy budget calculator will help you work out the cost of your project, but content essentially starts at €0.06 per word. That price applies to any language you might choose. A range of extras is available: plagiarism check (€0.01 per word), editing and proofreading (€0.02 per word) and quality control or management, both at €0.01 per word.
In short, a 500-word blog post with plagiarism check and proofreading will come in at a grand total of €45. If you're using the budget calculator, you can order directly from here, simply by typing in your contact details and some briefing notes. Key Content accepts payment by credit card, PayPal, or Stripe.
Other services available from Key Content are priced as follows:
Translation – €0.09 per word, with additional services available as above
Localization – €0.09 per word, again with extras available
Transcription – €1.50 per audio minute with a 24-hour turnaround time, or €3 per minute for a rush delivery (five times faster)
Content marketing, SEO, and brand development all operate on a custom quote basis, for which you'll have to get in touch with the agency for details.
Other features of the Key Content service
We've already mentioned some of the services Key Content offers besides high-quality content. However, there's yet more to talk about. Published case studies show how Key Content works with clients on brand development and content marketing strategies, as well as powerful SEO research focused on international or local solutions. SEO consultants are available in various UK locations (London, Kent, Preston, Nottingham, and Birmingham) and in Brisbane, Sydney, and Melbourne in Australia. This geographic focus can help location-specific businesses or those looking to break into new markets.
Other services that may be of interest and aren't usually offered by content agencies include subtitling translation from a variety of file types, and quality assurance for AI. This involves checking large amounts of machine-generated copy and turning it into natural-sounding content, polished by language experts who can also help you improve your tools. And finally, for writers or translators or those who just happen to be interested, Key Content provides a wealth of free tools including a word counter, Japanese and Korean character counters, word frequency counter, and more.
Or not quite finally, because of course there's a blog. Updated regularly, the Content Marketing Blog features guides, how-tos, reviews, and articles on all manner of content topics, from starting a blog to understanding customer journey mapping. You can also check out other content agencies' performance and view customer testimonials or case studies.